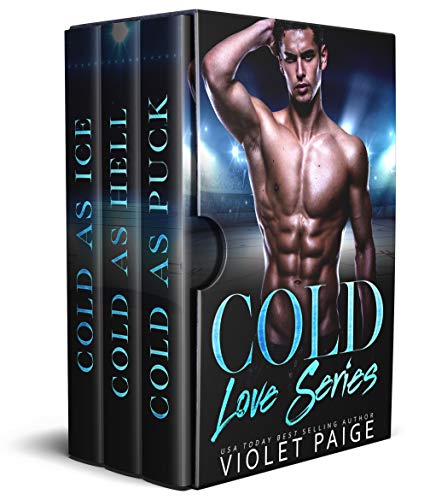 2020-07-09
They skate. They win. They're hot AF.
Don't miss this collection of hockey romances.

Cold As Puck
I was all in. Down on one-knee. Love you forever. ALL in. But I destroyed it. Because that's what I do.
The worst part… I'd never see her look at me the same way. In awe of the hockey god. The stud who made her breathless in bed. The winner.
I was a champion. I lost Game Seven and the team put me on a tight leash. Now I'm back in my home town during the off-season. Forced to do penance or I'm no longer the Dires' goalie.
But Sophie's still there and she's not buying my acts of atonement. Why would she? I broke her heart. She has no reason to forgive me, but I can't skate this time.
I remember how it felt when we got under each other's skin. So does she.
Hot. Wicked. Hypnotic. Maybe if I tell her the truth, we can start over. Or, maybe I'll lose her all over again.
Cold As Hell
Winning is supposed to feel good. That's right, I'm coming down off the biggest high of my life. The Dire Wolves star sniper just scored the game-winning goal.
That's me. The Champion. Stud. Hockey god.
Only I've become the hockey world's villain. There's a target on my back and my life feels like it's spiraling. I don't know how to get things under control. The team's solution to the constant threats I receive?
Send in Hope Winters, NHL cyber security expert. They didn't tell me she was beautiful, quirky, smart and sexy as f*ck. She says she doesn't fall for hockey players. But it's my job to find holes in the defense.
Right now, she's the only distraction I want to focus on. I've always known there's a cost to keeping score. Pushing the boundaries with Hope could change the game forever.
Cold As Ice
I'm broken. Hell, maybe it's how I was made. It's not only my leg that is shattered, but my heart has never been whole.
One rough play threatens to sideline my career with a splintered bone and months of physical therapy. But I fight back and find my place on a new team—the Dire Wolves.
Then I meet Noelle. Gorgeous. Funny. Smart. And a single mom. She's been burned before and the risks are higher than ever. She has a little girl who loves hockey like it's in her DNA. Did I mention we met at Ice Puppies hockey camp?
Noelle makes it clear she doesn't date hockey players. No matter how good I am with my stick. There's something she can't deny. Our chemistry sizzles. I'm powerless to stop falling for her. If I can prove I'm not like the man who left her,
There's a chance I can have what I've always wanted—family.
But Noelle is stubborn and protective of her nest. It's going to take more than a few hot nights and smooth skating to convince her I'm the man who could give her forever.Continue Reading