Warrior's Captive: A Warrior Alien Abduction Sci Fi Romance (Warriors of Yedahn Book 4)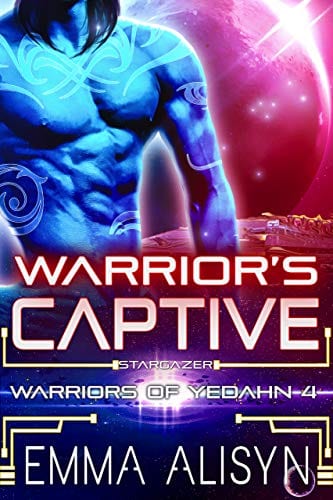 Abducted. Knocked up. A royal alien warrior ruthlessly hunts down his mate's enemies. A new mother discovers the power of her bonding marks—and the strength to fight back.
Vivian never thought a midnight run would land her on planet Yedahn, in the custody of an elite royal warrior claiming she is his genetic fated mate.
Kinda hard to argue with facts when she's about to have his baby.
But forget the baby shower, the traffickers who kidnapped her want their investment back. Sucks to be them, because Vivian won't be taken, ever again . . . except by her mate. And someone forgot to mention that the glowy marks on her arms give her access to far more than her warrior's wealth . . .
Tai'ri's work on the anti-human trafficking task force has just become personal. A twist of fate gives him what he's always wanted, a mate and child of his own, but they come packaged with relentless enemies determined to take back what is his.
He claimed his mate, and he will keep his mate. Even if it means his life.