The Taming of a Wicked Rogue (The Lords of Scandal Row Book 1)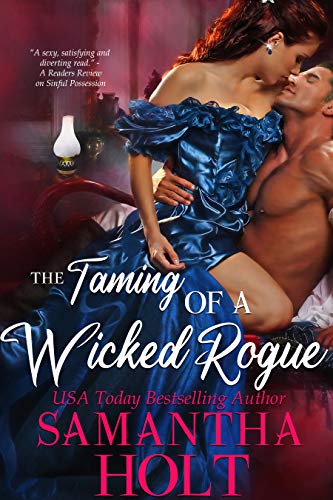 Forced to leave friends, family, and a life of privilege and fun, Rebecca Fortescue's world changed overnight nearly ten years ago. Now, with the tightening of a noose, it's changed again, but she needs to make amends for what her father did.
Which means returning, secretly, to the place where he did the most damage.
And to the residence of one Lord Leonard Moncrieff—the only man she's ever loved.
She's certain she won't see him again, though. Nicknamed a Lord of Scandal Row, it's clear to her, he's no longer the boy she knew, and never returns home. The last thing she needs it to be distracted by a man deemed one of the most attractive men in London.
Unfortunately for Rebecca, Leo has been practically banished from London under the orders of his mother thanks to a scandal that, for once, had nothing to do with him. Now he has to spend his days playing the country gent and trying to avoid the female of the species.
It will be harder than he expected, given a sudden influx of young ladies to the area. He might be a rogue, but he has no desire to upset his delicate mother and will, albeit begrudgingly, play the dutiful son. He can avoid a few pretty faces, surely?