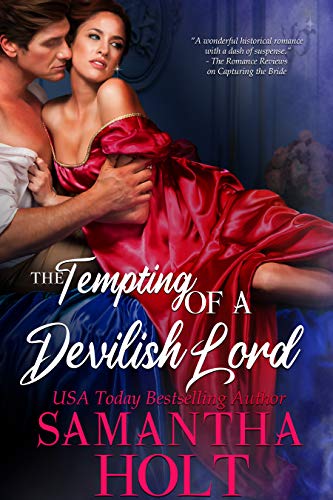 One might not know it to look at her, but the uptight Miss Lucinda Evans was once quite the adventurer. So much so it very nearly landed her in a whole world of trouble.
Now nearing spinster age, Lucinda is determined the same fate won't befall her headstrong little sister. All she needs to do is keep a careful watch over Mary-Anne and maintain her own prim and proper appearance and behaviour. It might be a dull existence but at least it's safe.
At least until she meets the Marquis of Kirbeck.
Lord Alexander Moncrieff has done his best to avoid a dull existence since inheriting the title. He might have returned home to the quiet country town at the behest of his mother, but it will not be long until he's back to his usual reckless lifestyle.
But whilst he is trying to behave, at least for a little while, for some inexplicable reason, every woman in England has flocked to the dull town. Alexander finds himself surrounded by women of every variety, enough to fulfil even his rakish tastes.
So why the devil does he find himself interested in the prudish, uptight Miss Lucinda Evans?
Maybe because, despite her boring appearance and determination to scold him at every turn, he cannot help but feel she's hiding some hint of scandal under those high collars…