Snowed in with the Alien Warlord (Warlord Bride Index Book 1)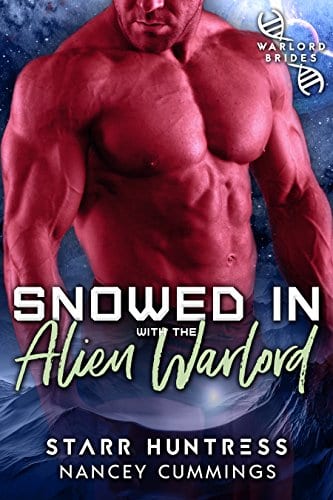 You can't trust an alien.
Penny is having the worst year. First the pretty lizard aliens show up and start murdering people. Then the "good aliens" arrive and claim they'll defend Earth and save humanity… for a price. She knows a protection racket when she sees one. And the price? Married to an alien? No thank you.
Kol has one mission: destroy the Suhlik. He's not interested in this new planet, Earth, or the strange soft-skinned inhabitants. On a scouting mission, he catches the luscious scent of his mate and must find her in the rubble of a ruined city and bring her to the safe zone.
When Kol is wounded protecting Penny, she just can't leave him to freeze to death in a blizzard. Besides, no one is asking her to marry him, just keep him from becoming a popsicle. She doesn't trust him and all this nonsense about being his mate could be hypothermia talking. The more time she spends with the brawny alien warrior, the more she can't deny the heat between them.
Once she is safe in his powerful embrace, being married to an alien is looking better by the minute.
The Warlord Bride Index is a series of standalone stories set in the Warlord Brides universe.
Stand Alone, HEA, No Cheating and No Cliffhangers.