Author Miranda Bailey tells us about her lockdown in Portugal.
"If you're feeling down, reach out, don't think you're alone, because you aren't. We're all feeling trapped, in one way or another. Reaching out eases that claustrophobic feeling."
Author Miranda Bailey is currently in lockdown in Portugal, which is a very different experience from what many others are finding themselves in. Let's hear how she's getting on.
Who else is with you, Miranda, are you all doing ok?
My fella and I are safe and well with our two favorite dogs here to keep each day interesting and entertaining. Our girls are rescue puppies and Freya is the size of a horse, so it's been interesting watching her become this cuddle-monster because it's strange outside now. She wants to be a lapdog but she's far too big. Amy, smaller but still a medium sized dog, is also nervous because things just aren't right outside. Where's all the noise and why are there so many birds now? She's learning to enjoy TV and watches it avidly. I've never seen a dog watch TV so much, but she loves it. She'll even try to sniff other dogs if she sees them on there, but can't figure out why there's something in the way.
Things haven't changed very much for me. I work from home, so it's always been a life of being in the house constantly, for me. For my fella, however, life has changed a lot. He's used to being able to go out and meet up with friends and having long conversations with other people. He's missing the interaction, but sees the sense in being at home. It keeps us all safe.
As far as advice goes, I don't have anything new to offer. We all deal with things differently, but I can say, reach out to others. It's cliche, but we are all locked down together, whether we're in America, England, Australia, or anywhere else in the world. If you're feeling down, reach out, don't think you're alone, because you aren't. We're all feeling trapped, in one way or another. Reaching out eases that claustrophobic feeling. I reply to all emails I get from my readers, though I might be slow at times, but I do. If you need someone, say hi. I will reply.
Lock-down is different here. You'll get arrested for civil disobedience if you're out gathering with friends or having a party. You can only go out to have exercise, to go to the store/doctor/pharmacy, and to get food from restaurants. Otherwise, no going out. It's not hard for me to do that, but even I'm longing to talk to people face to face. I curb that urge by talking with people online, on the phone, emailing with my readers, and working.
I've been taking some time out to read too, I'm currently reading Father of Lies by S. E. England and I love it. There's mystery, magic, demons, and all sorts in it. It reminds me of Dolores Redondo's Legacy of the Bones books, and I am really enjoying it.
I talk with my readers a lot, through email, and that has really helped me to stay positive. It's hard to focus on romance and love when you're constantly bombarded with sad news, but my readers keep me on my toes and I can't thank them enough for that. I have amazing readers and I love them so much.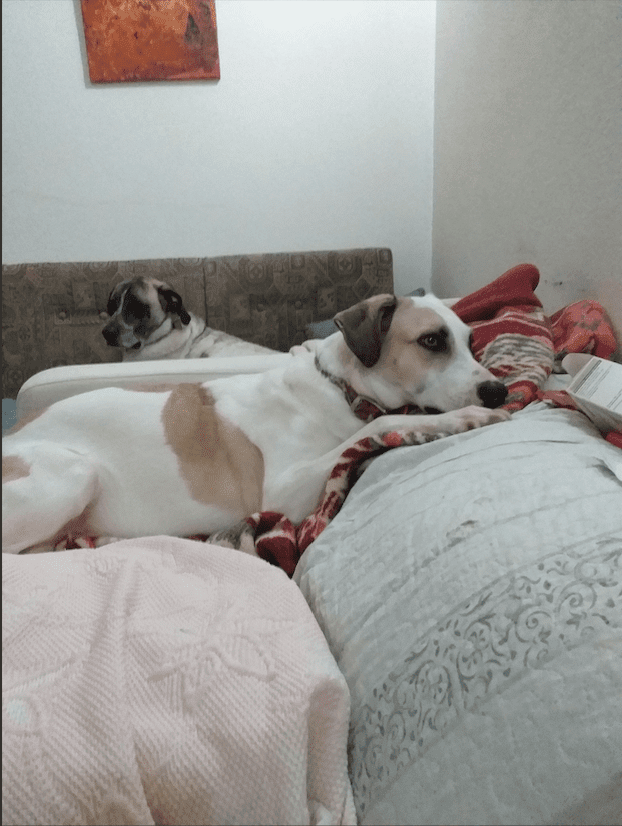 I'm working on a book called Marrying the Wolf. I'm also working on another secret book, that will remain a mystery for now. Marrying the Wolf will be out by the middle of May, I hope.
It's a paranormal romance about a marriage of convenience between a new wolf-clan leader and a woman who's never known what love is. She isn't sure she can accept love, or ever really be loved, and when she meets his family, it gets harder to believe in. He has secrets, and one night that secret is exposed.
My, I could go on, but I'll give it all away if I do so for now…it's a paranormal romance about what true love really is.
About Miranda
What makes your mind tick over? What gives you a thrill and what scares you? What do you secretly wish when you're all alone and nobody is around to judge you? These are the things that interest me and drive my writing. If anything were possible what would you dream? For me the stories of others are the most fascinating and a lifetime of making up scenarios for people as I sat people watching in a park, on the train, or even sitting at an outdoor cafe come to life in my work. I hope you can find something to enjoy about the world my own mind creates…