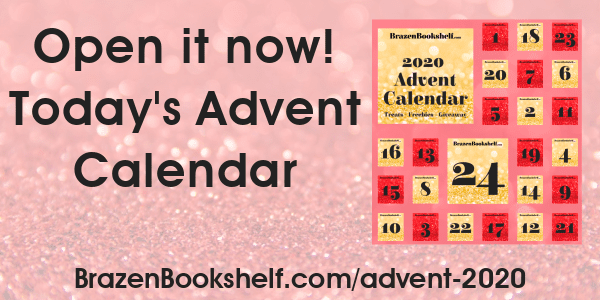 Seasons Greetings!
Whether you celebrate Christmas or not, this is a time of year that can be stressful, lonely and difficult for many - and that's during a "normal" year. There's no doubting that 2020 has been an incredibly challenging year. We truly hope that our Advent Calendar treats have brought a little joy and happiness your way and that you're finding a little time to enjoy the festive season.
Whether you find yourself in the middle of a frantic Christmas filled with family and excitement, or if yours is a more subdued affair.... or perhaps you don't celebrate Christmas at all; wherever you find yourself, we hope that you'll be able to find a moment or two of peace to enjoy reading a great romance.
It's been an honor to get to know some of you over the course of this year, and we're excited for 2021. New Year always feels a hopeful time, and that's needed now, even more than ever.
As for us, well, we're a very small team insipred to work hard for the large BrazenBookshelf family of readers and authors. We're going to take a few days off during the holiday season to recharge our batteries and prepare for what's we anticipate to be a great year ahead.
In the meantime, why not browse through our previous Advent treats, and our recent newsletters. We're confident that you'll find a hidden gem or two (or a dozen), that you'll adore.
Wishing you a Christmas filled with love and a happy, healthy New Year.