Manhattan Nights (Novels 1-3): A Contemporary Romance Box Set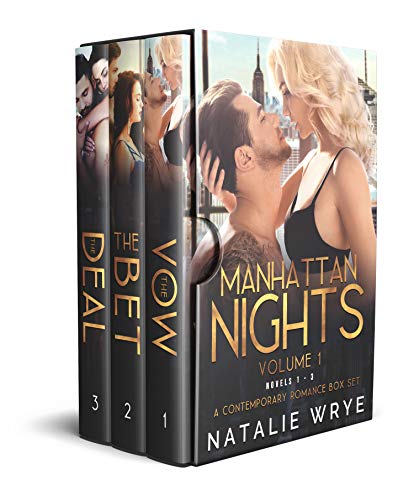 **NOW ON SALE until 12/7/20. (Orig. price: $6.99)

Three full-length contemporary romance novels with twists, suspense and steam. Includes the newest extended edition of The Vow.


The Vow: Book 1

I thought a "vow" could keep us apart.
I was wrong.

It's been seven years since I've seen my first love—my best friend's hotter than Hell-in-July older brother, Brett.

But when my first night in NYC ends in disaster, I find myself walking into his tattoo shop in need of help, the memory of our lost romance still singed on my skin.

—

The Bet: Book 2

Of all the names I've been called in Manhattan, "good guy" has never been one of them.

But that's what I have to become…the day my father's law firm (and sexy lawyer Violet Keats) fall into my lap.


—

The Deal: Book 3

JESSE
As a lawyer, my job is to resolve scandals. Unfortunately, my best friend's sexy younger sister is a walking scandal, clad in leather and tight jeans.

Off-limits, feisty and gorgeous in ways that should be illegal, Marilyn wins more than just my confidence when the wild child actress returns to Manhattan, covered in more Hollywood dirt than all of my court cases combined.
The Manhattan Nights Series (Novels 1-3) contains lots of heat, humor, suspense and twists. Enjoy!