Kristin MacQueen, a romance author from Pennsylvania is under lockdown with her husband, 3 kids, 2 dogs and 6 chickens… So, she's definitely keeping busy!
How have things changed for you and your family during lockdown?
Although my husband was injured while on duty – he's a police officer, and was hit by a car right after everything with COVID started, thankfully he's ok and he's still working full time and picking up extra hours. As for me, I work in the operating room and things have been completely shut down, unless they're emergencies. My kids are home from school and we're learning to navigate homeschooling.
We've been going for walks, fishing, or just exploring whenever we can.I've convinced my husband and kids to do yoga with me and we do fires in our backyard at least once a week as something special. I write after the kids go to bed to help with stress.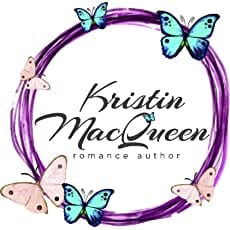 To relax I've been reading the Eagle Elite series by Rachel Van Dyken and the Twin Bays series by TK Barber. Both are mafia/mob romances and they're absolutely amazing.
If I was to share any advice, I'd say to try to focus on the good in your life right now. There's an end to all of this, you might not be able to see the light at the end of the tunnel right now, but it's coming. Things won't be like this forever.
I like to work form my favorite armchair, although with 2 dogs, sometimes I have to share!
I'm currently working on four different series at the minute, at least one book in each series is currently being worked on, some have multiple ones. The Charlies Boys Series (New adult romance)- I'm working on Beautiful Bumps, Surprising Sammie and Kissing Kennedy. The series is about a group of seven guys who move into a house with one girl during college. Each book follows a different guy to their HEA.
The Never Series (YA romance)- Book two released on April 22nd and writing book three now. The series follows two friends who are in high school. It deals with heavy topics that many authors won't write about.
The Bosshole Files (RomCom) – I'm preparing to release my first book in this series Assisting the Bosshole, in June. It's an amazing story about a broody billionaire and his new assistant. I'm almost done writing the second book in the series which follows another owner of the company.
About Kristin
Kristin is the author of the Charlie's Boys series. She lives outside of Philadelphia with her husband, kids and dogs. When she's not writing she enjoys sewing, making crafts, reading, hiking and camping with her family. She started writing when her husband was away and became bored after the kids were put to bed at night. For the most part, she is a stay at home mom but also works a few days a month in the operating room.
Find out more about Kristin via KristinMacQueen.com, Instagram, her facebook group or her Amazon Author Page.