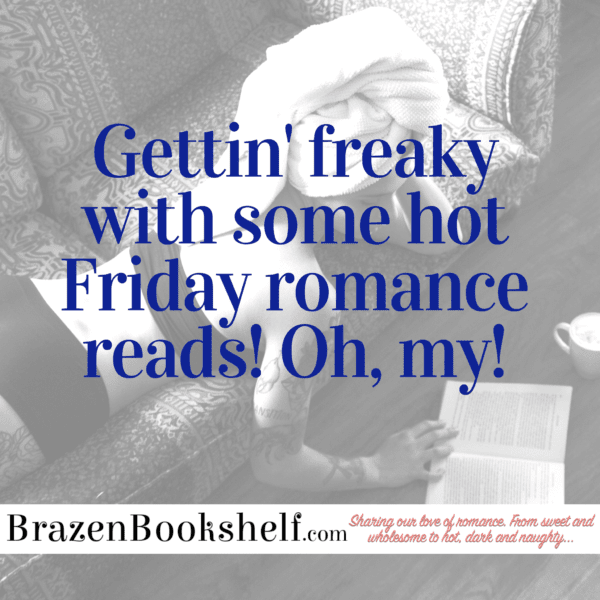 Don't miss these hot and naughty romance books… deals won't last!
Your recommended reads for today,
September, 20th, 2019.
The Heir
(Clan of the Woodlands Book 0)
20 years ago, a clansman killed her father and turned her life upside down. Now another stepped into her life to turn it inside out.
Assigned as a mediator during negotiations with the Clan of the Woodlands, Ayanna wants to be anything but helpful. Sure, that guy was the heir to a chieftain and tolerably handsome for a clansman, but that doesn't stop her from calling him out as what he is: a savage.
After all, everyone knows how the Clans struggle to keep their few women safe after a chemical accident has wiped out most of the female population. Ayanna has no doubt Nix is as dangerous as the rest of them, no matter how protective he might act around her.
Nix knows he can't trust himself around that female the council of the Districts has assigned him. Being close to something as rare as a woman required honor and a functioning set of morals – he was doomed from birth to have neither.
But the young clansman has a mission: bring about a merge between the Districts and his Clan. That water the Districts are drinking to suppress immoral needs in men and women alike? Yeah, that had to go. But negotiating with the council won't be the hardest part of this mission. He has to ignore whatever Ayanna stirs inside him, or risk finding out just how deep that darkness inside him reaches.
♨️ Heat Level 4
Bull
Ruthless. Brutal. Killer.
I've got no business wanting an innocent woman.
But when Cindy's life is in danger, I'm exactly the beast she needs.
Cindy has always been off-limits.
Single mom, coffee shop owner, she's happy with a regular life.
And I swore to protect her from the dangers of my world.
As club VP, that means never getting too close, no matter how tempting her curves are.
She's innocent. If there's a fire in her eyes when she looks at me, I'll ignore it.
Anything to keep her safe.
Just being around me could get her burned.
Until a traitor rips the MC apart just as our enemies attack.
Until a stalker threatens the woman I've sworn to protect.
I'm the only man lethal enough to keep Cindy safe.
But keeping her safe means keeping her close.
And that closeness is a real big problem.
Because I can hunt a stalker.
I can kill a traitor.
But I can't fight how bad I want her.
And a war zone is dangerous place to fall in love.
? Heat Level 5
Choose your Heat!
? Heat Level 1: Clean romance (no swearing or on-page steam)
? Heat Level 2: Sweet romance (mild swearing and some sensual scenes)
♥️ Heat Level 3: Middle of the Road, some on-page naughtiness
♨️ Heat Level 4: Steamy on page scenes and language
? Heat Level 5: Explicit/Graphic – hot, hot, hot!
Ronan
(Crashland Colony Romance)
Trapped with a sexy alien warrior, a holographic owl, and a mystery I need to solve
Becca
Investigating these mysterious signals wouldn't be so bad if it wasn't for him. Overbearing, arrogant, and worst of all, he's the hottest man I've ever met. A huge, muscle-bound, ruggedly handsome alien warrior, Ronan is every bit as attractive as he thinks he is.
He's one of the prytheen, the aliens who stranded us on Crashland. I don't like them, don't trust them, and I am absolutely not interested in this one. Nope.
So why is it so difficult to keep my hands off him?
Ronan
I am a fighter pilot, the best there is, and I fly alone. Trapped on Crashland, the cockpit is my only refuge and I refuse to share it with anyone – especially a human. But when I see the female I'm supposed to ferry to the far side of the planet, things get a lot more complicated.
Becca is my khara, my soulmate, chosen for me by fate. The soft, curvy, beautiful human gets past all my defenses, and I must have her. I will have her.
No matter the danger, or the cost.
? Heat Level 5
Two Times the Mountain Men
Writer's block. A critical deadline. A blizzard and a couple of dangerous escaped fugitives on the loose. What else could go wrong?
Try being forcibly removed from my rental cabin by a couple of mouth-droppingly sexy men from the ranger patrol, insisting it was for my own good. Own-good my ass! I had work to do and they were seriously messing with my timeline. I could handle myself, thank you very much.
However, what I felt to be an outrageous violation of my rights seems to be turning into just what I may have needed when the three of us become snowed in and we only have each other to keep ourselves entertained, spiking the creative juices in me to an all-time high.
The problem is that our situation is only temporary, and they've been very clear they're not into the whole relationship thing. I just need to keep emotions out of it and use them for inspiration–sadly that's easier said than done…? Heat Level 5
Picture Perfect
I made a sexy mistake a decade ago…
And I won't regret repeating it!
I shouldn't have left her behind in my hometown.
Now every part of me wants to touch her… to own her.
I need to make her mine again.
Being a successful sports photographer has its perks.
But I'd never been rejected by a woman.
Much less the only woman I obsess over.
I know I'm playing with fire.
Eventually it's time for me to leave town again.
But this time I'm not leaving without her.…
And her little secret that won't stay little for long.
? Heat Level 5
Academy of Littles: A Dark Daddy Romance
He demands you enroll in the
Academy of Littles.
You have no other choice.
He takes what's his.
You.
You hold on to your most prized possession.
Your virtue.
What happens when you give yourself over and learn to submit completely?
Three women. Three Papas. Three scandalous stories of love, passion, a
? Heat Level 5
Watch out for more from BrazenBookshelf.com… coming soon!
BrazenBookshelf.com cannot guarantee that that some previous offers may have already reverted to another price. Always check before clicking!
BrazenBookshelf.com
1813 N Columbia Blvd Suite C15-559553
Portland Oregon 97217
United States
http://BrazenBookshelf.com
You're recieveing this email because you signed up to BrazenBookshelf.com's newsletters. You can change your email settings at any time by clicking the "Update My Profile" link at any time.